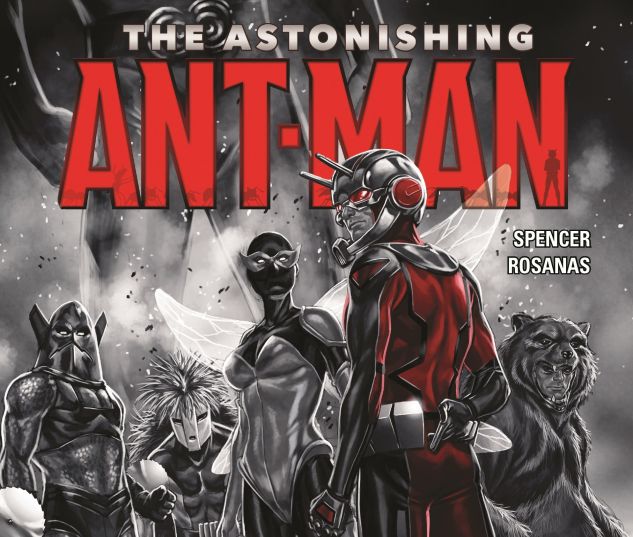 The Astonishing Ant Man: Everybody Loves Team Ups written by Nick Spencer collects The Astonishing Ant Man #1-4 as well as Ant Man: Last Days #1 and Ant Man Annual #1. With marvel renumbering their comic books almost once a year what makes this series different from the others.
As many of you may not know, Marvel is by far my favorite comic book publisher. It feels as the years go on though, that my relationship with Marvel grows more and more strained. With new series popping up every month or so, it's hard to really follow the marvel cannon and continuity. Due to this, I really don't follow new releases and read marvel comics within the last 10 years. So it truly was a surprise when I decided to pick up this book.
I believe the thing that caught my eye with this graphic novel is the sheer number of villains and allies in this book. Not only that, but many of the villains are not mainstream in today's Marvel continuity. Characters like The Grizzly, Whirlwind, The Beetle, Porcupine, and The Slug all make appearances in The Astonishing Ant Man: Everybody Loves Team Ups. Now I know what you might be thinking "aren't these pretty awful villains?". Truth be told, I have a sweet spot for corny superheroes and supervillains. I really love the fact that Nick Spencer wrote in these characters. It gives long time readers and Marvel efficianados something to look forward to while reading this book.
Now thats not to say that this book doesn't get the "new Marvel treatment". One of the things I can't stand about new Marvel is fourth wall breaks. Fourth wall breaks were really popularized by Deadpool and have been carried over way to much into other series. I mean, it works for Deadpool because that's his gimmick, his niche. But with Ant Man it just seems forced and somewhat cringy. When I read a comic book I want to be immersed not feel like the characters are talking to me.
The Astonishing Ant Man: Everybody Loves Team Ups' timeline is also very hard to follow. It jumps all around the place and really does not wrap itself up explaining why they jumped back in time to explain something. By the end of the book I was totally confused whether the book ended where it started, or if it had actually progressed time.
Overall The Astonishing Ant Man: Everybody Loves Team Ups definitely does not damage my opinion of Marvel but it also does not improve my view on Marvel comics in the last 10 years. I give The Astonishing Ant Man: Everybody Loves Team Ups a 6/10.